Recommended Global Environmental Sciences Conferences
Waste Recycling Congress 2018
Sessions/Tracks
Earth station, i.e. approximately 35,787km above mean sea level, which has a period equal to the Earth's rotation
on its axis and would remain geostationary over the same point on the Earth equator.
About Conference
9th
World Convention on Recycling and Waste Management
is mainly based on the theme
"
Promote
Sustainability and go green
''
We warmly welcome all the participants of World's leading Scientists, Researchers and Scholars to attend the Convention. We provide a platform for young Researchers and Students to present their Research through oral Presentations through which they can develop a foundation for collaboration among young Researchers.
The Organizing committee aims at setting a platform for all the budding Scientists and Researchers to present their real-time work and share their views and aspects related to the theme of the Conference. The Organizing committee is gearing up for an exciting and informative Conference program including plenary Lectures, Symposia, Workshops on a variety of topics, Poster presentations and various programs for participants from all over the World.
Conference series LLC Ltd
Organizes a Conference series of 1000+ Global Events inclusive of 300+ Conferences, 900+ Upcoming and Previous Symposiums and Workshops in USA, Europe & Asia with support from 1000 more Scientific societies and Publishes 700+ Open access Journals which contain over 30000 Eminent personalities, Reputed Scientists as Editorial board members.
Summary:
The increasing trend in
Recycling and Waste Management
has increased. Recycling is a way of life. Once we have made that choice to implement all the steps of recycling in our daily lives, and stick to that choice every single day, recycling becomes second nature to us. Sure there will be lapses; it's not easy for us creatures of habit. But no matter, we press on. Every small contribution to the recycling movement and the initiative to protect our Environment adds up to how our present Society eventually shapes our Nation's and the Earth's future.
Waste Management
or Waste disposal is all the activities and actions required to manage waste from its inception to its final disposal. Very one of us has an important role to play in reducing the quantity of waste buried in landfills. Sorting waste in order to recycle or compost it are efficient means to reduce garbage.
But why should we do it?
1. Because our consuming habits have evolved considerably since the previous generation. We consume more intensely as new products are put on the market and consequently, we produce an ever increasing amount of waste. Two-third of that waste can be either recycled or composted.
2. Because waste ending up in landfills produces leachate and landfill biogas that are harmful for the water we drink and the air we breathe. Biogas contains mainly methane, a greenhouse gas that is 29% more powerful than carbon dioxide (CO2).
3. Because the Management of our waste is a clean way of living that shows how much we respect the people closest to us. Waste sorting decisions we make today will encourage our children to learn and influence the quality of life of future generations.
Why to Attend?
The Conference will provide a forum for exchange of recent Research results among Researchers from all across the World focused on learning and sharing Knowledge upon use of recycling and for discussion of future challenges in implementation and application of latest Technologies and advances in this field. With members from around the world focused on learning about
Recycling and Waste Management
, this is your single best opportunity to reach the largest assemblage of participants from all over the World. Conduct demonstrations, distribute information, meet with current and potential customers, make a splash with a new product line, and receive name recognition at this 2-day event. Best Opportunity to Meet
World-renowned speakers
and to learn and share the most recent techniques, Theories and Technologies in the field of
Recycling and Waste
management
. 9th
World Convention on Recycling and Waste Management
is an exciting opportunity to showcase the new Technology, the new products of your Company, and/or the service your Industry may offer to a broad International audience. It covers a lot of topics and it will be a nice platform to showcase their recent Researches on
Recycling and Waste Management
and other interesting topics.
Target Audience:
​ Research Scientists
Recycling Associations
Recycling Industries
Recycling Researchers
Business Entrepreneurs
Environmental Academia's
Ecologists
Green Energy Training Institutes
Chemical Engineers
Environmental Engineers
Waste Management Associations
Market Analysis
Osaka in the 19th century Osaka has traditionally been regarded as a city of merchants while Tokyo traditionally has had a reputation of being a city of bureaucrats and samurai. Osaka is also noted as the birthplace of traditional Japanese theatricals like Kabuki and Bunraku puppet dramas and as the site of some of Japan's most important battles.
Why Osaka, Japan?
Osaka, Japan
Conferences, Workshops and Symposiums are providing the opportunity for the World's most Scientific and Technological aspirants to be acknowledged with the new trends in
Science and Technology
by arranging internationally biggest platform in
Osaka, Japan
. Though physically small,
Osaka, Japan
is an economic giant. It has been
Southeast Asia's most modern city
for over a century. In terms of Educational, Cultural as well as Political aspects
, Osaka, Japan
has a special place. Apart from this, the city is also famous for its largest tourist visit.
Osaka, Japan
usually witnesses a minimum of 28-29 degrees Celsius and a maximum of 40 degrees Celsius. Based on climate records since 1929, the lowest temperature recorded till date has been 19.4 degrees Celsius on January 31, 1934 and the highest was on March 26, 1998 at 40 degrees Celsius.
Osaka, Japan
is also popular for its good transportation and communication facilities.
Osaka, Japan's
main airport is an experience not to be missed, if only to find out why it's consistently ranked as one of the best in the World.
Ever wondered what materials we recycle the most of? This pie graph represents the per cent by weight of each material that the entire World recycled in 2018 (excluding construction projects which made accounted for 47% of the total tonnage recycled). As you can see, paper products (paper, cardboard, and confidential documents) account for over half of the recycled material. Each ton of paper that gets recycled saves 17 trees, 3 cubic yards of landfill space, 2 barrels of oil, 7,000 gallons of water and 4,100 kilowatt hours of electricity. The plastic, metal, and glass category makes up for the second most recycled material. This is what is collected from the green-topped recycling bins found all over campus where people can dispose of their used containers.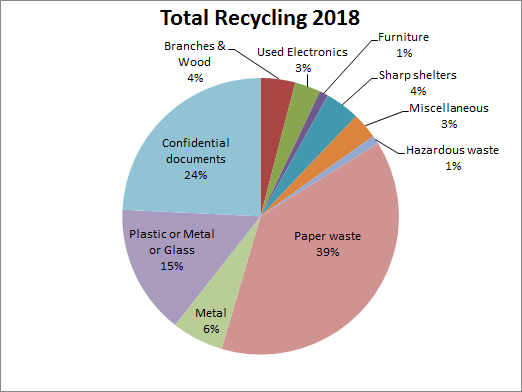 Comparing data with the previous year is another way to demonstrate our progress in recycling, as well as identify areas for improvement. The below bar graph shows the weight in tons of many materials during the year of 2017 (blue) and 2018 (red).
This all adds up to great environmental benefits.This is equivalent to taking 1,663 vehicles off the road and saving over 1 million gallons of gasoline!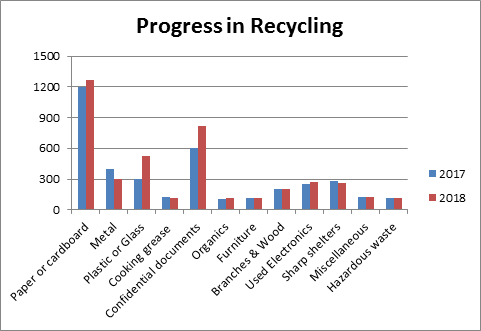 Coming to Japan, It is promoting an increase in the reuse rate of sludge (clay) generated through the production process of ceramic sanitary ware, by returning it to raw material form and reducing the water content. In fiscal 2017, although improvements in the Japanese residential market led to increased sales and production, the generation of waste products fell by 10% year-on-year as reduction activities took effect. Efforts to reduce and reuse waste have also been put into place overseas, and although production increased due to the increase in sales in each market, similar to what is happening domestically, waste generation fell by 5% year-on-year.
The domestic recycling rate remains stable at above 99.5%, but stubbornly remains below 60% overseas, where infrastructure development is lagging. Overseas group production companies will strive to promote the reduction of waste, with the development of waste treatment companies and waste usage as important issues. In 2018 its main motto is to increase the recycling rate by 99%.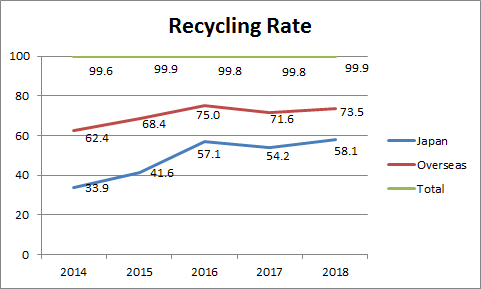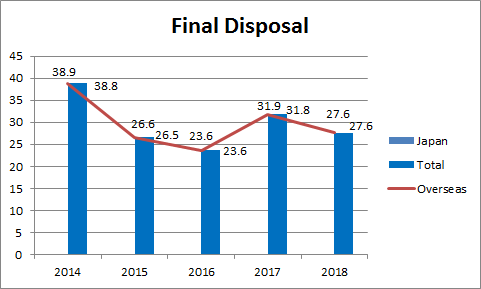 This conference is focusing on all the major aspects in the fields of Waste management. It would be beneficial for all the students and Researchers who ever willing to enter into corporate worlds targeting to the respective fields.
Past Conference Report
Waste Management Convention 2017
The "5th World Convention on Recycling and Waste Management" (Waste Management Convention 2017) hosted by Conference Series LLC Ltd during September 11th and 12th, 2017 at Holiday Inn Atrium, Singapore with a theme "Don't waste the waste, reuse for sustainable green energy generation", was a great success where eminent Keynote Speakers from various reputed institutions with their resplendent presence addressed the gathering.
The pragmatic meeting organized by Conference Series LLC Ltd has received generous response from the Editorial Board Members of OMICS Group Journals as well as from Eminent Scientists, Talented Researchers and Young Student Community. Researchers and students who attended from different parts of the world made the conference one of the most successful and productive events in 2017. The conference was marked with the presence of Renowned Scientists, Talented Students and Business Delegates driving the two day event into the path of success with thought provoking keynote and plenary presentations.
Ann T W Yu, Hong Kong Polytechnic University, Hong Kong
Ameer A Al-Haddad, Kuwait University, Kuwait
Debashis Chanda, University of Central Florida, USA
Lutfor Rahman, Independent University Bangladesh, Bangladesh
A K M Maksud, Grambangla Unnayan Committee, Bangladesh
Padma Singh, Gurukul Kangri University, India
We extend our Sincere thanks to our Moderator Dr. Augustine Quek, National University of Singapore, Singapore, who handled the conference in a very smooth way.
Waste Management Convention-2017 Conference was carried out through various sessions, in which the discussions were held on the following major scientific tracks:
Food and Catering Waste Recycling
Chemical Waste Recycling
Vegetable Oil Recycling
Electrical & Electronic Recycling
Plastic Waste Recycling
Paper Recycling
Rubber recycling
Waste water Recycling
Industrial Waste Recycling
Agricultural waste Recycling
Photographic Waste Recycling
Printing Waste Recycling
Petrochemical and Oil Recycling
Waste Recycling Management
Waste Disposal Practices
Hazardous waste management
Waste to Energy
Recycling Business
Waste Management Convention 2017 Conference has played an important role in promoting multidisciplinary interactions and amalgamations between Recycling and Waste management.
The event enlightened various arenas of Recycling and waste management with plenary lectures from the speakers of various universities and organizations like:
Ahmed Al-Busaidi, Sultan Qaboos University, Oman
Augustine Quek, National University of Singapore, Singapore
Lingai Luo, French National Center for Scientific Research, France
N Buachidze and Kh Chikviladze, Shota Rustaveli National Science Foundation, Georgia
Barbara Kemigisa, Pill Power Uganda, Uganda
Faraz Farhidi, Georgia State University, USA
Y H Liu, Technological and Higher Education Institute of Hong Kong, Hong Kong
Wei-Cheng Wang, National Cheng Kung University, Taiwan
Mohamed Shehata, Hokkaido University, Japan
Le Zhang, National University of Singapore, Singapore
Xin Xu, Seoul National University, South Korea
Alvin Ee Wei Lianga, National University of Singapore, Singapore
Tong Huanhua, National University of Singapore, Singapore
Anshu Priya, Indian Institute of Technology Patna, India
Jae-Hoon Lee, Ye-Seul Baek, Eun-Kyu Noh, Korea Environment Corporation, South Korea
Edmundo Arturo Pérez Godínez, Autonomous University of Chihuahua, Mexico
Natela Dvalishvili, Georgian Technical University, Georgia
Conference Series LLC Ltd would like to convey a warm gratitude to Chairs and Co-chairs who contributed effervescently for the smooth functioning of the event which includes Ann T W Yu, Hong Kong Polytechnic University, Hong Kong ; Ameer A Al-Haddad, Kuwait University, Kuwait ; Lutfor Rahman, Independent University Bangladesh, Bangladesh and A K M Maksud, Grambangla Unnayan Committee, Bangladesh and the Posters were Judged by Dr. Padma singh Gurukul Kangri University, India
Conference Series LLC Ltd would like to personally thank Augustine quek Tai yong as an moderator and Organising Committee member who really proved to be a hero of the Convention.
We are also obliged to various outside experts, company representatives and other eminent personalities who supported the conference by facilitating the discussion forums. Our sincere thanks to Organizing Committee Members for their gracious presence, support and assistance towards Waste Management Convention -2017, and with their unique feedback, Conference Series LLC Ltd would like to announce the "9th World Convention on Recycling and waste Management" to be held during October 22nd and 23rd. Come, cogitate and conflate your ideas at our exalted event.
Let us meet again @ Waste Management Convention-2018
Past Reports
Gallery
To Collaborate Scientific Professionals around the World
Conference Date October 22-23, 2018
For Sponsors & Exhibitors
Useful Links
Past Conference Report