Theme: Reduce and Recycle Waste for Sustainable Waste Management
WASTE RECYCLING CONGRESS 2019
The Organizing committee aims at setting a platform for all the budding Scientists and Researchers to present their real-time work and share their views and aspects related to the theme of the Conference. The Organizing committee is gearing up for an exciting and informative Conference program including plenary Lectures, Symposia, Workshops on a variety of topics, Poster presentations and various programs for participants from all over the World.
Conference series LLC Ltd
Organizes a Conference series of 1000+ Global Events inclusive of 300+ Conferences, 900+ Upcoming and Previous Symposiums and Workshops in USA, Europe & Asia with support from 1000 more Scientific societies and Publishes 700+ Open access Journals which contain over 30000 Eminent personalities, Reputed Scientists as Editorial board members.
Summary:
The increasing trend in
Recycling and Waste Management
has increased. Recycling is a way of life. Once we have made that choice to implement all the steps of recycling in our daily lives, and stick to that choice every single day, recycling becomes second nature to us. Sure there will be lapses; it's not easy for us creatures of habit. But no matter, we press on. Every small contribution to the recycling movement and the initiative to protect our
Environment
adds up to how our present Society eventually shapes our Nation's and the Earth's future.
Waste Management
or
Waste disposal
is all the activities and actions required to manage waste from its inception to its final disposal. Very one of us has an important role to play in reducing the quantity of waste buried in landfills. Sorting waste in order to recycle or compost it are efficient means to reduce garbage.
But why should we do it?
1. Because our consuming habits have evolved considerably since the previous generation. We consume more intensely as new products are put on the market and consequently, we produce an ever increasing amount of waste. Two-third of that waste can be either recycled or composted.
2. Because waste ending up in landfills produces leachate and landfill biogas that are harmful for the water we drink and the air we breathe. Biogas contains mainly methane, a greenhouse gas that is 29% more powerful than carbon dioxide (CO2).
3. Because the Management of our waste is a clean way of living that shows how much we respect the people closest to us. Waste sorting decisions we make today will encourage our children to learn and influence the quality of life of future generations.
Why to Attend?
The Conference will provide a forum for exchange of recent Research results among Researchers from all across the World focused on learning and sharing Knowledge upon use of recycling and for discussion of future challenges in implementation and application of latest Technologies and advances in this field. With members from around the world focused on learning about
Recycling and Waste Management
, this is your single best opportunity to reach the largest assemblage of participants from all over the World. Conduct demonstrations, distribute information, meet with current and potential customers, make a splash with a new product line, and receive name recognition at this 2-day event. Best Opportunity to Meet
World-renowned speakers
and to learn and share the most recent techniques, Theories and Technologies in the field of
Recycling and Waste
management
. 10th
World Convention on Recycling and Waste Management
is an exciting opportunity to showcase the new Technology, the new products of your Company, and/or the service your Industry may offer to a broad International audience. It covers a lot of topics and it will be a nice platform to showcase their recent Researches on
Recycling and Waste Management
and other interesting topics.
Why Sydney, Australia?
Sydney
is the state capital of New South Wales and the most populous city in
Australia
and Oceania located on Australia's east coast, the metropolis surrounds the world's largest natural harbour and sprawls about 70 km (43.5 mi) on its periphery towards the Blue Mountains to the west, Hawkesbury to the north and Macarthur to the south.
Sydney
is made up of 658 suburbs, 40 local government areas and 15 contiguous regions. Sydney is a vibrant, cosmopolitan city with a diverse population featuring a rich history, internationally recognized tourist attractions and an exciting calendar of events. The City of Sydney is the local government authority responsible for the city center and more than 30 suburbs within our boundaries. The major City attractions are Sydney Opera House, Sydney Harbour Bridge, Bondi Beach, Taronga Zoo, and
Darling Harbour
.
Sydney is one of the world's most green, global and connected cities. As Australia's leading global city and the gateway to Asia, Sydney is the destination of choice for International corporations, Business Leaders, Tourists and Students. Sydney provides headquarters for almost 40% of the top 500 Australian corporations. Digital, financial, educational and creative businesses are all thriving in Sydney – supported by our robust economic strategy. Through the City of Sydney's Sustainable Sydney 2030 program, Sydney is recognized internationally for its outstanding environmental performance and major cultural events, and as a future focused and innovative business Centre. Sydney is also host to one of the largest Chinese New Year Festivals in the world.
Thankfully, Air travelers won't need to go out of their way to experience the multitude of shopping, dining and entertainment experiences on offer at the Airport's.
Target Audience:
· Research Scientists
· Recycling Associations
· Recycling Industries
· Recycling Researchers
· Business Entrepreneurs
· Environmental Academia's
· Ecologists
· Green Energy Training Institutes
· Chemical Engineers
· Environmental Engineers
· Waste Management Associations
Increased globalization and a surge in population and Gross Domestic Product (GDP), among others, have led to an increase in the overall waste volume globally.
According to World Bank in 2012, urban population produced about 1.3 billion tons of Municipal Solid Waste (MSW) which is expected to grow to 2.2 billion tons in 2025. The costs for managing solid waste is expected to increase drastically in lower middle (four times) income countries such as India and Brazil among others and even higher in low-income countries (five times) such as Kenya and Ghana among others. Therefore, the need for solid waste management has increased largely on a global scale.
To increase the recycling across the world, initiatives are being taken by the government agencies of various regions. Market players are taking measures to recycle the E-Waste in order to reduce the pollution and environmental hazards caused by it. In June 2014, Dell, a leading computer manufacturer, launched its first computer made of plastics obtained from recycled electronics. The company has started selling its first computer "the OptiPlex 3030" which is made up of old electronics using closed loop recycling process. Recently, Dell has also started using recycled plastics in its other desktops and monitors. Millions of refrigerators, TV sets and cell phones are replaced with newer versions due to user's growing inclination towards technologically advanced gadgets. In 2010, US discarded about 258 million units of computers, cell phones, TV sets, and monitors. North America is a leader in exporting E-waste to the developing countries such as China and Australia. This exported E-Waste is then recycled in developing regions which generate revenue for the market.
Segment Overview:
A number of materials recycled in Singapore in 2007 was 142.3 million metric tons. This is expected to increase to 158.6 million metric tons in 2008 and 244.8 million metric tons in 2013, for a compound annual growth rate (CAGR) of 9.1%.
Recycled metals are the largest segment at 76.8 million metric tons in 2007. This should grow to 83.5 million metric tons in 2008 and 123.2 million metric tons in 2013, a CAGR of 8.1%.
The fastest growing segment is recycled tires and reclaimed rubber; 1.9 million metric tons were recycled in 2007, and an estimated 2.2 million metric tons in 2008. This should reach 4.2 million metric tons in 2013, for a CAGR of 14.0%.
The world recycling market is segmented by recycling source and type. Presently, a market trend is observed in North America that highlights the fact that majority of E-Waste is trashed to developing countries, rather than recycling or reusing the same by the producing country.
Developing countries lead in recycling the E-Waste, a majority of E-Waste is exported to emerging countries by developed countries. Amongst all sources of E-Waste such as IT and telecommunications and consumer electronics, refrigerator sets from household appliances are discarded in highest number as compared to other appliances. The decrease in the life cycle of electronic products viz. computers, laptops, cell phones is generating a large amount of electronic waste in the North American region.
2016 ratio of recycling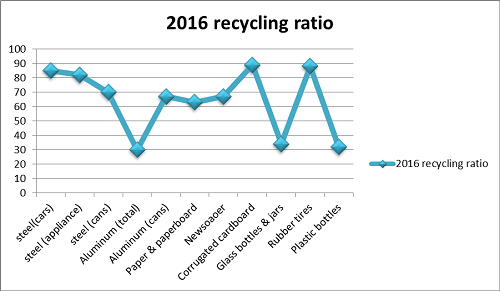 Amount of E-waste recycled /reused and in storage adjusted sales by year, world market: 2010-2025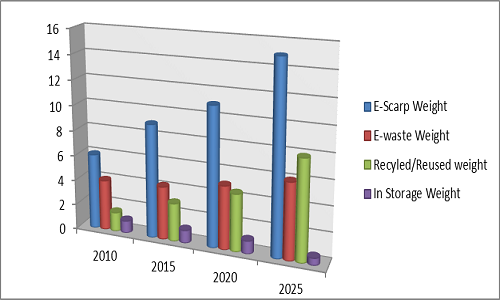 Plastic packaging recovery and recycling in the Australia
The research methodology used to estimate and forecast the metal recycling market begins with capturing data on key vendor revenues through secondary research. The vendor offerings are also taken into consideration to determine the market segmentation. The bottom-up procedure was employed to arrive at the overall market size of the global metal recycling market from the revenue of the key players in the market. After arriving at the overall market size, the total market was split into several segments and sub segments, which were then verified through primary research by conducting extensive interviews with key people such as CEOs, VPs, directors, and executives. These data triangulation and market breakdown procedures were employed to complete the overall market engineering process and arrive at the exact statistics for all segments and sub segments. The metal recycling market comprises companies such as ArcelorMittal (Luxembourg), Nucor Corporation (U.S.), Commercial Metals Company (U.S.), Sims Metal Management Limited (U.S.), and Aurubis AG (Germany).
Solid Waste Management report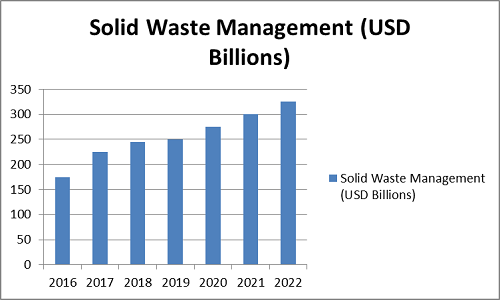 To share your views and research, please click here to register for the Conference.
To Collaborate Scientific Professionals around the World
Special Issues
All accepted abstracts will be published in respective Our International Journals.
Abstracts will be provided with Digital Object Identifier by
---
Conference Series Destinations
Webinars & Conferences By Continents